Newsletter - February 3, 2023
Lakeside
Elementary School
Black Wolf Bulletin
February 3, 2023; Issue 11
---
Dear Lakeside Families,
We had a great time celebrating World Read Aloud Day on Wednesday! All classes completed reading challenges and had hot chocolate to celebrate! Please see our Facebook page for pictures of some of the challenges that classrooms completed! On Friday, students celebrated the end of semester 1 with interest hour activities. All students were able to choose two interest activities to participate in. Please check Facebook later for pictures!
We will celebrate Valentine's Day on Tuesday, February 14. Classrooms will have parties at the end of the school day to pass out their Valentines. Parker Johns will be providing pizza for all of our classes during the class parties as a reward for winning the Christmas tree decorating contest at Brighton Acres in December!
Finally, we are so excited to welcome author Dean Robbins to our school at the end of February! Please see the information that was sent home in folders and emailed out on Wednesday about this exciting opportunity. We hope many families can join us for Dean's presentation and book signing after!
Sincerely,
Mrs. Ashton, Principal
amy.ashton@oshkosh.k12.wi.us
---
Yearbook Orders!
Yearbook ordering is available online now! Click HERE to be taken to the prepay link. Yearbooks will be delivered to school sometime in the spring and distributed to the students who ordered. Online ordering is only available for a short time, so act now!
---
Meet the Author - Dean Robbins
On Friday, February 24th from 1-2pm, award-winning children's author Dean Robbins will visit us for a special event! Mr. Robbins' books for elementary school students have been praised in the New York Times, USA Today, Smithsonian Magazine and Forbes; featured on National Public Radio; chosen for best-of-the-year honors; and adapted for film.
Along with offering presentations on his nonfiction picture books, Dean will sign and personalize copies for any students who bring copies to the event. For a list of the books that Dean has authored, click HERE. All titles are available on Amazon.com or at your local book store.
We'll also have some special dress up days leading up to the event, and parents are welcome to join us for Mr. Robbins' presentation. You can learn more HERE.
FEBRUARY BIRTHDAYS
Lucas Hazen
Alexandra Englund
Weston Cummings
Maria Gordon Rodriguez
Hudson Davies
Benjamin Mueller
Claire Killian
Benicio Cruz
Emma Hable
Greyson Tobin
Landon Hron
Grayson Lee
Easton LaCroix
Alex Moua
---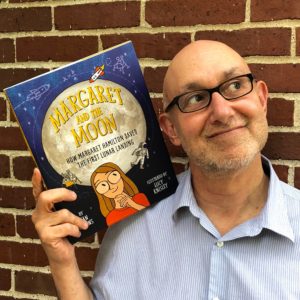 Staff Introductions - Welcome to Lakeside
Over the course of a few newsletters, we'll introduce you to some staff members that just joined us this semester. Check out their introductions below!
Staff Introductions - Welcome to Lakeside!
Staff Member: Sarah Bauer
Role at Lakeside: Instructional Support Teacher for Math
More about me: Hello! My name is Sarah Bauer and I am excited to join Lakeside as Instructional Support Teacher-Math for the second semester! I will be split between Lakeside and Carl Traeger. Having a school family is important to me and I am eager to partner with staff and families to help grow students even more this year. My teaching career began in downtown Milwaukee where I taught 4th grade for a few years. I co-taught 5th grade with a special education teacher at Roosevelt for five years and then transferred to Oaklawn where I have taught 5th grade for the past five and a half years. My husband and I have two children (6 and 9) and we enjoy pizza/movie nights, playing games like Uno, mini-golf, traveling, and spending quality time with extended family and friends. I look forward to meeting you all soon!
Staff Member: Makayla Keefe
Role at Lakeside: Long Term Sub - Art
More about me: My name is Makayla Keefe and I am joining the Lakeside staff as the art teacher! I just graduated in December of 2022 and finished student teaching January of 2023. I went to UW Stevens Point for two years and then transferred to UW Oshkosh. I have worked with children for six years in a daycare setting and I have worked with children on the autism spectrum. I have always loved art and I have always loved kids, combining the two and becoming an art teacher was a no brainer and I am so excited to start my career! I look forward to not only getting children excited about art, but teaching them ways to express their many emotions through their art!
---
Lakeside Family Beach Day Dance!
Lakeside's annual family dance event is coming soon! This year's dance will be held on Friday, March 3rd from 6 - 7:30pm in the Lakeside gym and has a "Beach Day" theme. Information sheets came home with your students last week.
For those of you new to Lakeside, or just new to the dance, this is an annual dance and fundraiser put on by our PTO. Some amazing raffle baskets are put together with donations from Lakeside families, as well as the wider community. Students (and families!) can purchase tickets for an opportunity win a raffle basket at the end of the night. There are also some silent auction items for families to bid on during the evening. Each class has a "theme" for their class-sponsored basket, and families are encouraged to donate items or money for their child's class basket, or just for the baskets overall. Advance purchase of raffle tickets is encouraged in order to skip the ticket line on the night of the dance.
This has been one of the PTO's biggest fundraisers of the year, and has allowed them to generously support our students and staff with donations for classroom materials, providing field trip busing, and much, much more. Of course, it's also just a really great time! So even if you're unable to donate or purchase tickets at this time, don't miss the dance! We appreciate your support in making this fun family event a success!
---
Out of Attendance Area and Open Enrollment Application Information
"Out of Attendance Area" requests are for OASD-resident families who would like to request a school that is NOT their "home school" in the district.
"Open Enrollment" requests are for families residing in the Oshkosh Area School District who are requesting enrollment in a different district.
Information on the application processes for both of these groups for the 2023-2024 school year can be found HERE, along with important deadlines!
---
Snow Gear and Winter Playground RemindersStudents should come to school wearing their boots and snow pants, particularly students who are dropped off. Students are not allowed to enter the building to put on their snow gear, so they should be wearing it when they arrive at school.
Also, boots (snow or rain, as the weather dictates) will be required for any of the playground equipment or the grassy areas until late into the spring. Having boots for outside and shoes for inside helps us keep our classrooms clean. If students are not wearing boots, they will have to remain on the blacktop area only. Thank you for your cooperation!
---
Event RemindersAre you coming to school for an event during the school day? If you know you will be attending an event at school and you've already been scanned using our "Raptor" security system (this year or any prior year), call the office or send me an email ahead of time. I'll have your visitor badge printed and ready to go, and you can skip the line!
Not "Raptored" yet? Please remember to bring your photo ID the first time you come to school for an event during the day. After that first time, we can look you up by name.
Thank you for helping us keep our school and your children safe!
Volunteering Reminders
As a reminder, if you are interested in volunteering by helping in your child's classroom or chaperoning a field trip, you must have a pre-approved volunteer application on file before the volunteering event. These applications are to be filled out each school year, but then are good for the remainder of the year, and are effective for all OASD schools. You can find the application HERE.
Important!: Once you have completed your application, let the office know so that we can request that the application be processed; this does not happen automatically, and can take up to 48 hours, so please plan accordingly!
Community Events
Check out our Community Events page on our website for information about events happening throughout the Oshkosh community!
---
Follow the Lakeside PTO
Click HERE to find our amazing PTO on Facebook!
---
Upcoming Lakeside Events
February 9th - Club Invention, 3-4:30pm
February 10th - No school for students; professional development for staff
February 13th - PTO meeting at 6pm in the Media Center
February 16th - Club Invention (snow make-up day), 3-4:30pm
February 20th - No school for students; professional development for staff
February 24th - Author visit by Dean Robbins, 1-2pm (see above for more info)
March 3rd - Lakeside School Dance, 6-7:30pm
March 10th - No school for students; professional development for staff
March 20th - 24th - Spring break
---